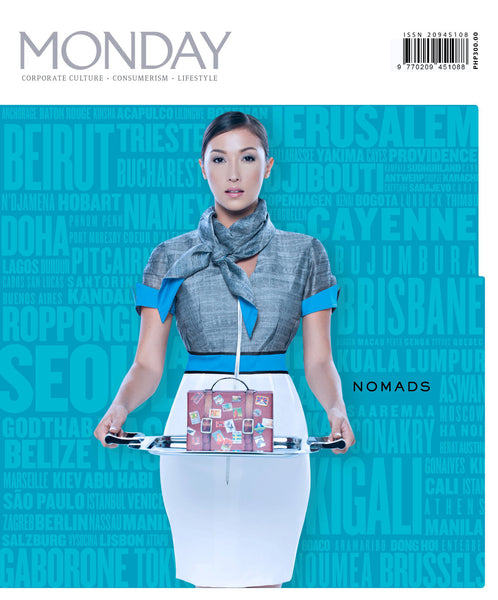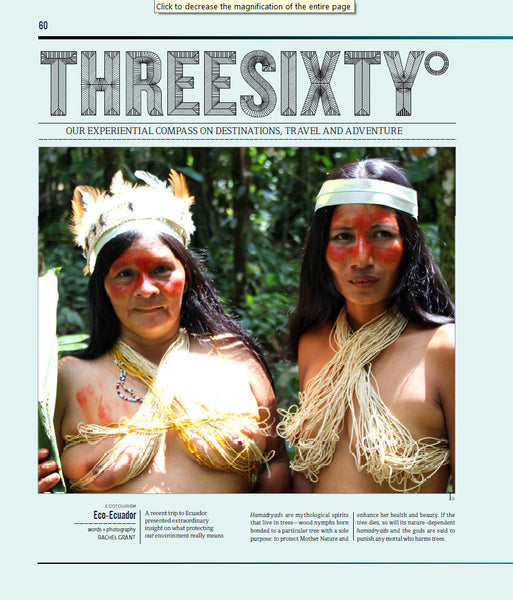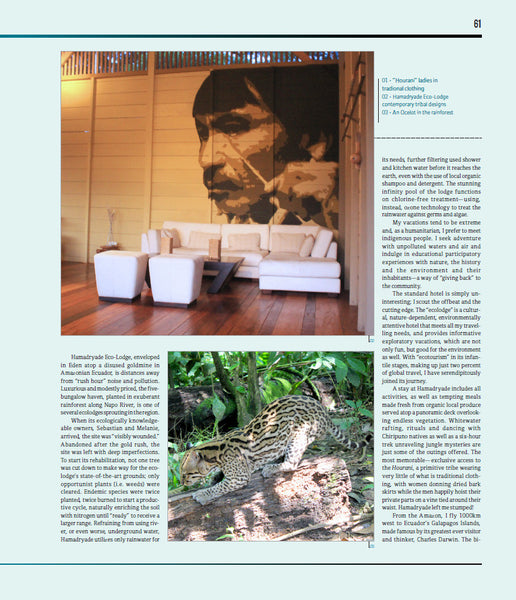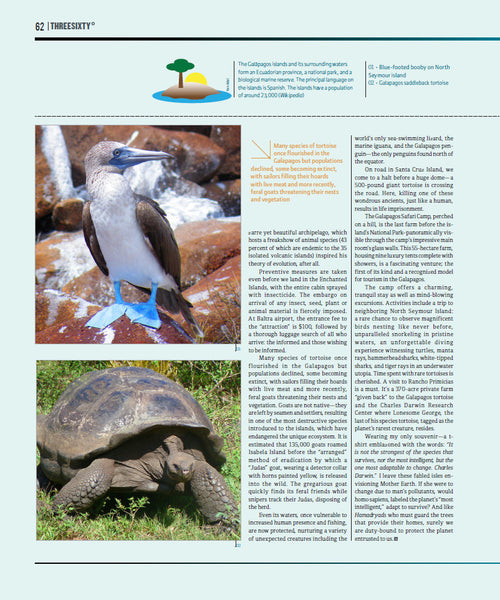 Monday, Eco-Ecuador
---
My vacations tend to be extreme, and as a humanitarian, I prefer to meet indigenous people. I seek adventure with unpolluted waters and air, indulge in educational participatory experiences with nature, history and the environment and their inhabitants, a way of "giving back" to the community. The standard hotel is simply uninteresting; I scout the offbeat and the cutting edge. The "ecolodge" is a cultural, nature-dependent, environmentally attentive hotel meeting all my travelling needs, and providing informative exploratory vacations, which are not only fun, but good for the environment. With "ecotourism" in its infantile stages, making up just 2% of global travel, I have serendipitously joined its journey.
Hamadryads are mythological spirits that live in trees – wood nymphs born bonded to a particular tree with a sole purpose: to protect Mother Nature and enhance her health and beauty. If the tree dies, so will its nature-dependent hamadryade and the gods are said to punish any mortals who harm trees.
Hamadryade Eco-Lodge, enveloped in Eden atop a disused goldmine in Amazonian Ecuador, is distances away from "rush hour" noise and pollution. Luxurious and modestly priced, the 5-bungalow haven, planted in exuberant rainforest along Napo River, is one of several ecolodges sprouting in the region.
When its ecologically knowledgeable owners, Sebastian and Melanie arrived, the site was "visibly wounded", abandoned after the gold rush which left deep imperfections. Not one tree was cut down to make way for its state-of-the-art grounds; only opportunist plants were cleared. Endemic species were twice planted, twice burned to start a productive cycle, naturally enriching the soil with nitrogen until "ready" to receive a larger range. Refraining from river, or even worse, underground water, Hamadryade uses only rainwater for its needs, further filtering used shower and kitchen water before it reaches the earth, despite use of local organic shampoo and detergent. The stunning infinity pool functions on chlorine-free treatment, using ozone technology to treat the rainwater against germs and algae. Employing regional craftsmen, Sebastian has created a spectacular contemporary ambiance reflecting Amazonian culture, colors and icons. Community endeavors and native guides ensure visitors are in harmony with the ecosystem, that the environmental impact is a positive one.
A stay at Hamadryade includes all activities, as well as tempting meals made fresh from organic local produce served atop a panoramic deck overlooking endless vegetation. Whitewater rafting, rituals and dancing with Chiripuno natives as well as a 6-hour trek unraveling jungle mysteries are just some of the outings offered. The most memorable – exclusive access to the Hourani, a primitive tribe wearing very little of what is traditional clothing with women donning a dried bark skirt while the men happily hoist their private parts on a vine tied around their waist. Hamadryade left me stumped!
From the Amazon I fly 1000 km west to Ecuador's Galapagos Islands, famed by its greatest ever visitor and thinker, Charles Darwin. The bizarre yet beautiful archipelago inspired his theory of evolution, hosting a freakshow of animal species, 43% endemic to the 35 isolated volcanic islands.
Preventive measures are taken even before we land in the "Enchanted Islands" with the entire cabin sprayed with insecticide. The embargo on arrival of any insect, seed, plant or animal material is fiercely imposed. At Baltra airport the entrance fee to the "attraction" is $100 followed by a thorough luggage search of all who arrive: the informed and those wishing to be informed.
Visitors - as this is not a place for tourists - are not permitted on the Galapagos National Park without a certified naturalist guide, who serves as the islands' enforcer. With rules implemented at school, guides are educated early, venerating these magical islands and rare indigenous inhabitants. Touching, feeding and talking to the animals are forbidden, so enforced they are fearless of human presence and delightfully approach us, curious cackling bipedal oddities! Contact may transmit viruses and bacteria whereby fatal infection has developed even growing to epidemic levels. There is no litter; all guides will pick up the least of a gum wrapper.
Many species of tortoise once flourished in the Galapagos but populations declined, some becoming extinct, with sailors filling their hoards with live meat and more recently, feral goats threatening their nests and vegetation. Goats are not native, left by seamen and settlers, resulting in one of the most destructive introduced species to endanger the unique ecosystem. It is estimated 135,000 goats roamed Isabela Island before the "arranged" method of eradication by which a "Judas Goat" wearing a detector collar with horns painted yellow is released into the wild. The gregarious goat quickly finds its feral friends while snipers track their Judas, disposing of the herd.
Even its waters, once vulnerable to increased human presence and fishing, are now protected, nurturing a variety of unexpected creatures including the world's only sea-swimming lizard, the marine iguana and the Galapagos penguin - the only penguins found north of the equator. Hosing down footwear whilst embarking and disembarking islands protects, or serves as a reminder to respect the risk of inter-island contamination.
On road in Santa Cruz Island, we come to a halt before a huge dome – a 500-pound giant tortoise is crossing the road. Here, killing one of these wondrous ancients, just like a human, is life imprisonment! We wait as the majestic ruler fearlessly ambles to the other side before arriving at our accommodation.
The Galapagos Safari Camp, perched on a hill, is the last farm before the island's National Park - panoramically visible through the camp's impressive main room's glass walls. This 55-hectare farm, housing 9 luxury tents complete with showers is a fascinating venture, first of its kind and a recognized model for tourism in the Galapagos. This camp which Prince Charles and Camilla visited, is a high-quality, low-impact project as opposed to massive low-quality hotels putting strain on the environment mishandling limited resources. As the only hotel to collect rainwater for consumption, tents minimally impact the land, waste is carefully managed and 90% of labor is local as well as ingredients bought from farmers. At the entrance, a basket of loose shrubs encourages visiting children to plant precious endemic species to help heal the island's future.
The camp offers a charming, tranquil stay as well as mind-blowing excursions. Activities include a trip to neighboring North Seymour Island: a rare chance to observe magnificent birds nesting like never before, unparalleled snorkeling in pristine waters, an unforgettable diving experience witnessing turtles, manta rays, hammerhead sharks, white-tipped sharks, and tiger rays in an underwater utopia. Time spent with rare tortoises is cherished. A visit to Rancho Primicias is a must, a 370-acre private farm "given back" to the Galapagos tortoise and the Charles Darwin Research Center where Lonesome George, the last of his species tortoise, tagged the planet's rarest creature, resides.
Wearing my only souvenir – a T-shirt emblazoned "It is not the strongest of the species that survives, nor the most intelligent, but the one most adaptable to change. Charles Darwin" – I vacate these fabled isles envisioning Mother Earth, if she were to change due to man's pollutants, would homo sapiens, labeled the planet's "most intelligent" adapt to survive?
---